Text: Karl-Heinz Pogner, Ph.D.
Encouraging and Including Thoughts in Hard Times…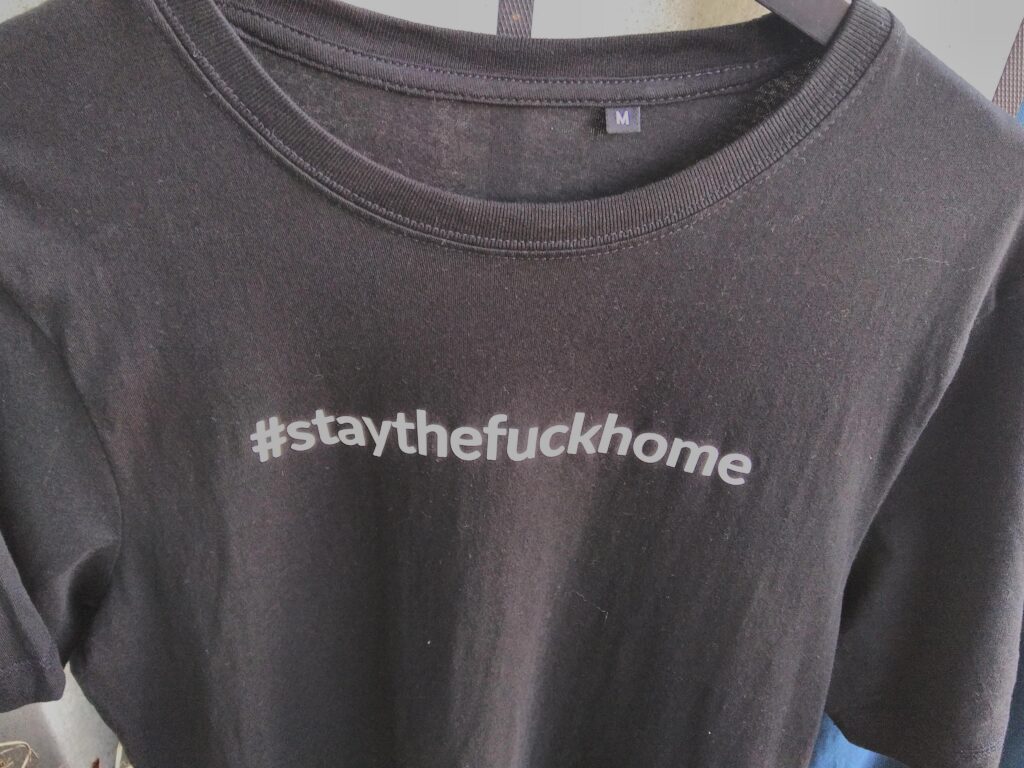 Pocket Philosopher, #Staythefuckhome!
I am not sure how hard these Corona times really are for me. I am in accomfortable position, not having to fear losing my job, being able to work from my #homeoffice / #justanotheroffice (with my wife's #homeoffice just next-door) and supported by my digital and analog #homelibrary / #emergencylibrary. Even coaching and working with 'my' students on their projects works well — once we learned to cope with the enabling and constraining aspects of Information & Communication Tech. I am enjoying the privilege of relaxing and cocooning in my #homebar, #homecafé, and #homerestaurant with great food from our favourite restaurants, which have transformed into takeaways, with marvellous deliveries from my favourite organic web grocery and my favourite pub and breweries. My professional and social life with colleagues and friends nearby and around the world still works fine — including organising, participating in and convening virtual conferences; but also visiting virtual pubs, including my local watering hole, participating in virtual pub quizzes and virtual beer tastings. Alas, no complaints from my side. Many people in the world have many more reasons to worry about, to be afraid of, to complain about, and to protest against. It is a tough situation, and these are hard times for many, no doubt!
Life is too short for…, though on the other side…
My pocket philosophy (Eagle, 2018), grounded on the premises / propositions / suppositions [you choose] that life is too short for many, many things, it still works. Life is too short for bad French movies, boring people, opportunists, friends who are no friends, bad temper…and bad beer (the following joke may contain profanity: "What do American beer and sex in a canoe have in common? They're both f…ing close to water"; https://upjoke.com/canoe-jokes).
Moreover, after 40 years of hard work, a lot of fights and frustrations and at least some successes, I think I have found my way through this life. I am not sure when the transition from young wild boy to old still-going- strong man took place. However, I am sure about one of my insights: "It" (LIFE) is not only about me, "it" (LIFE) is about being together with others, and "it" (LIFE) is about them and our (= THEIR and MY) shared responsibility for and solidarity in fighting against injustice, inequality, incompetence, and ignorance. When it comes to our planet (please remember saving the earth, as it is the only planet with beer), "it" (LIFE) is about the people living on it, struggling with living on it and trying to save it and even to make it a better place. In conclusion, "it" (LIFE) is about enjoying life, the marvellous and sensational in the mundane, or as Louis Aragon has coined it: the merveilleux quotidien (Aragon 1926) — without a bad conscience, but not without standing up and supporting others in their fight against injustice, inequality, incompetence, and ignorance — whenever it makes sense and is possible.
For this reason, the remainder of this essay is no longer about my pocket philosophy nor about myself, but about the marvellous and sensational of an everyday artefact: It is about a beer can for a Kölsch-ish style beer and about the story and people behind it.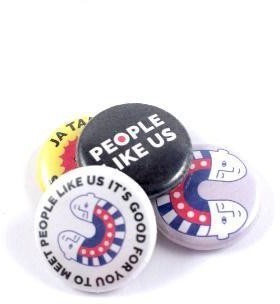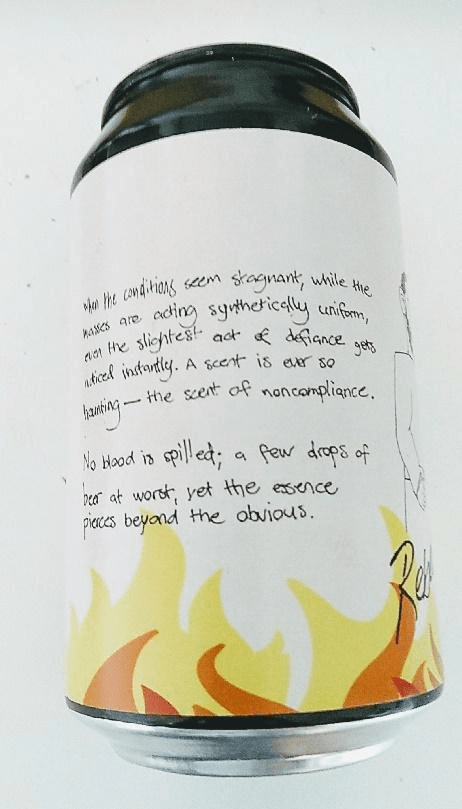 Rebel's Cologne and Social Revolution by Beer
"When the conditions seem stagnant, while the masses are acting synthetically uniform, even the slightest act of defiance gets noticed instantly. A scent is ever so haunting — the scent of noncompliance. No blood is spilled; a few drops of beer at worst, yet the essence pierces beyond the obvious."
This poem by Simon Vesterø, accompanied by the artwork of Sylvester (Sylle) Holm Kappel, concisely tells the story of the socio-economic enterprise and brewery People Like Us and their idea of a "Social Revolution by Beer". People Like Us are on a mission "to brew great craft beer to be sold worldwide, create a lot of jobs for people from socially marginalised groups—hoping to inspire others to do the same, [and to] challenge the societal conception of normality and communities."People Like Us (PLU) started as a brewing company founded by Lars and Jesper Carlsen. Lars worked as a schoolteacher and Jesper as a psychologist. They have been working "with people with diagnoses" for many years. The business model of People Like Us is a for-profit and socio-innovative business "working on developing and spreading new social business understandings." Their mission is to brew outstanding craft beer and make a serious, sustainable business out of it. PLU is primarily a platform for a range of projects and business units and for developing and running more of them, e.g., outsourcing its employees to other companies.
The PLU team counts about 30 people, 85% of whom have one or more diagnosis/es. As they put it themselves: "Some of us are autists, some have ADHD, some have depression or anxiety; some are war veterans with PTSD, and some don't have any diagnosis at all…. Common to us all is that we're hired to do what we're good at, and we are dedicated to usefully contributing to a working community. We are committed to making a difference—to the benefit of ourselves and the world around us."
Cartoons by Sylvester Holm Kappel: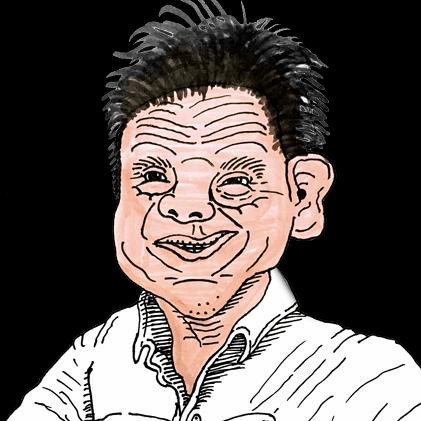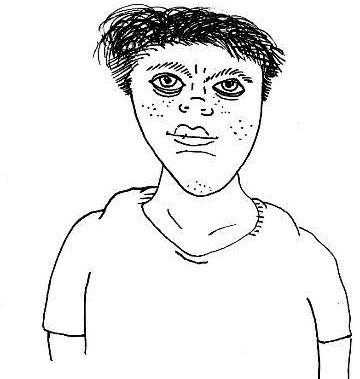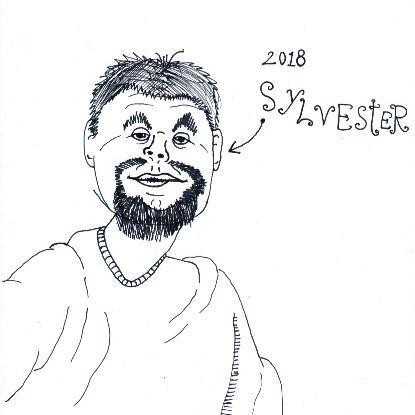 This work of art, craftsmanship, social entrepreneurship, along with its ideas and values, is the result of enthusiasm, compassion, empathy, social responsibility, let's just-do-it philosophy of the people behind all this (they are nevertheless "people like us"!) and collaborating with some of the hippest avant-garde breweries and nerds. All these are terrific reasons for why to get up in the morning…stay up…and stand up the rest of the day! Let us be—at least in-between—people like them! Or, is it people like us?
Karl-Heinz Pogner
References:
Aragon, L. (1926). Le Paysan de Paris. Paris: Editions Gallimard.
Eagle, J. (2018). Pocket-philosopher definition. https://www.urbandictionary.com/define.php?term=Pocket-philosopher
People Like Us. (2020a). About us. https://peoplelikeus.dk/.
People Like Us. (2020b). Rebels Cologne.
https://peoplelikeus.dk/shop/beers/can/rebels-cologne/ Pogner, K.-H. (2014). Globalization, Identity and T-shirt Communication. In: M.-L. Nosch, Z. Feng & L. Varadarajan (Eds.). Global Textile Encounters. Oxford: Oxbow Books, 283-294 (Ancient Textile Series 20)