Unleash the potential of your workforce
In a world of disruption and changing workforce, it is relevant to discuss the topic of inclusion. Who is including or excluding who and what is the nature and consequence of this? There may be several layers to inclusion versus exclusion as well as other things to consider, such as unconscious, hidden agendas.
Whereas inclusion creates confidence, appreciation, trust and connection; the sense of exclusion creates the opposite. Feelings such as isolation, insecurity, misunderstanding all increase a sense of being inadequate and off track.
A l'autre coté – On the other hand
Joanna Abeyie, Managing Director, Blue Moons addresses diversity in a more profound and disruptive manner. She discusses more unusual situations such as how to harness the amazing potential of blind human beings which may lay hidden – and undeveloped. Joanna Abeyie advocates vigorous implementation of diversity encouraging us to value each other's differences.
For a talent recruiter it is crucial to have the ability to recognize people's potential, to match this work that can bring out the best version of them. During an interview, a talent recruiter must be able to make the individual feel comfortable in order relax and open up. Joanna reminds us though, if you ask a leading question, you will get the answer you're looking for.
Joanna Abeyie advocates changing strategies and the status quo of the organization if the processes do not work. She further challenges her audience; "Stop believing that you have a policy of inclusion. Do you even ask one question that allows a person to show their skills and who they really are?" Being aware about how we make people feel is key.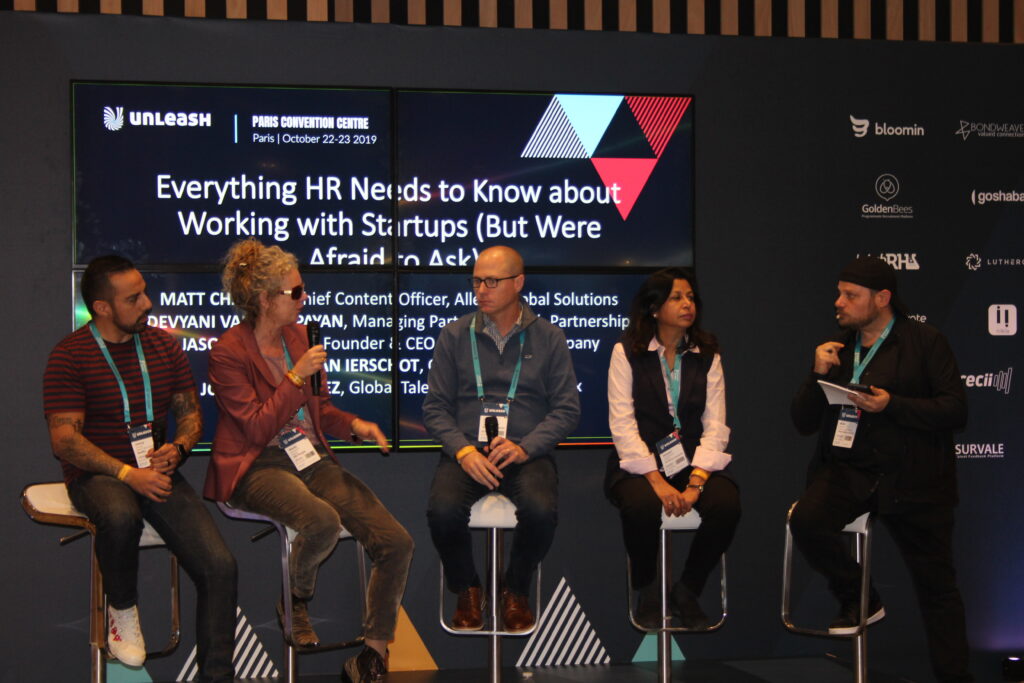 The Epicenter of workforce revolution
The truth is that many leaders tend to feel attracted to people similar to themselves, therefore, being on the same wavelength allows us to achieve that universal need of being understood and accepted.
As Joanna Abeyie points out, people in the organization might feel uncomfortable about themselves when interacting with colleagues that are unfamiliar to them. They may be afraid of the unknown. Though, the fact is that a diverse workforce will inspire growth and create extraordinary outcomes. When a workforce consists of multiple interdisciplinary fields and diverse backgrounds within a common denominator, the potential for creativity and synergy are vast. Bridging visionaries can rock.
Hiring excellence
When unfamiliar people make us feel uncomfortable, we tend to push these feelings of unease back on the other person, though, in effect it has nothing to do with them. This situation functions as a trigger pointer, where this feeling of inconvenience is actually an opportunity to expand perspectives and to enlighten unconscious bias.
When interacting with people different to ourselves, we have to question our own core values, established agendas, eventually discarding perceptions – or risk being in a deadlocked state of mind. It is healthy to work with people who represent the unfamiliar, and challenge the way we perceive the world around us, enhancing the potential for performance excellence and inspiring growth.
Diversity
To conclude, to inspire growth, we must resonate openness and curiosity towards people, especially to people different from ourselves. You never know in what particular human form the next exquisite talent is hiding him or herself. You never know which person is going to rock your world. It might not be the person sitting opposite you, who looks and sounds like you – it may be the person looking at you oddly from the opposite corner.
When performance from diverse interdisciplinary fields are aligned, the workforce becomes stronger and more able to deal with change. A diverse and interconnected workforce nurtures creativity, thus the potential for performance excellence excels.