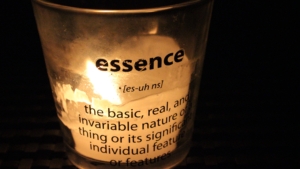 Text & photo: Eva Vestrheim
At the heart of marketing and communication – Marcoms – lies the debate on the issue as to what action needs to be taken in the future. This was debated at Frankly in Central Copenhagen, organized by EACD and K1, hosted by Klavs Valskov, CCO and Partner at Frankly, Thursday 15th of November.
The leads in marketing and communication departments are characterized by uncertainty and turmoil in our digital era. High expectations on revenues generated continuously place greater pressure on our performances and competences. The previous wide gap between communication and marketing has transformed into an alignment of the two disciplines.
Mastering the basic
Tobias Falkencrone, Director of strategy at the IDNA Group, was sharing his learning experience whilst working in the Middle East in a highly respected and ambitious organization. Tobias Falkencrone learned that often we become too ambitious and blinded by technology that we tend to subordinate the basic, hence we indulge in complex strategies and trendy advancement before even mastering the simple disciplines within communication. Accordingly, Falkencrone encourages focus on relevance, purpose, short and sharp content, transparency and credibility prior to any fancy stuff.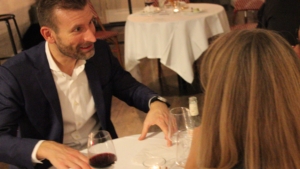 A very engaged Tobias Falkencrone
Synchronicity
Another key word of the debate was synchronicity. The synchronicity must be reflected in the narrative and the essence of the message, thus communicated synchronously to both audience and channels within and outside the organization.
Creativity
In virtue of a constant advancement in our discipline, everchanging trends and access to technology, the winners and survivors in marketing and communication of tomorrow will be the creative souls. Creative expertise and authenticity are crucial skills when intending to capture the attention of the relevant consumer and to guarantee the long-term survival of our profession.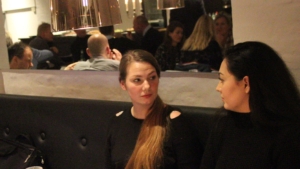 Reflecting audience
Authenticity
Moreover, we have to define ourselves as communicators. It all comes down to authenticity, purpose, insight and self-awareness of the communicator. How well do we know ourselves and do we know the signals we are sending to your audience? It is crucial to create communication from a space of presence and authenticity in order to build trust and transparency. "You have to be confident and consistent in your own person – in your own core as a narrator" concludes Klavs Valskov.